How can I adjust my portfolio?
Would you like to reduce your investments in Asia? Or invest more in commodities? With True Wealth, you have control over the composition of your portfolio.
If you are a True Wealth client, we have determined your risk profile using a questionnaire. Based on your responses, our algorithm determines a portfolio with the highest possible expected returns, depending on the level of risk you are able and willing to tolerate.
However, sometimes our clients want to incorporate individual preferences for specific markets or asset classes into their strategy. As long as the investment strategy remains sufficiently diversified and consistent with the risk tolerance we have determined with you, our investment solution allows you to customise your investment strategy.
Do you want to avoid investing in commodities for sure? Or would you prefer more Swiss equities in your portfolio instead?
Portfolio Adjustment
Let us show you how True Wealth allows you to adjust the investments in your portfolio to your own preferences. Assume you want to reduce your investments in emerging market equities. Sign in to your True Wealth user account (if you don't have one yet, try a test account here). Your will see your portfolio in your dashboard, then click on Equities and then on Drilldown in the bottom left corner.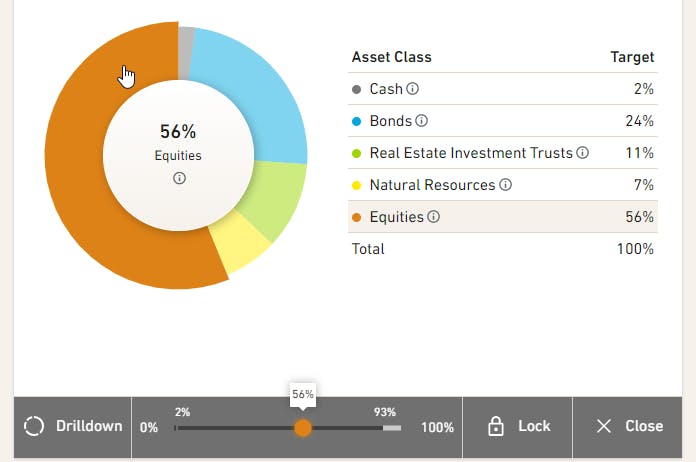 Now select emerging markets and move the slider to adjust its allocation.
Whether your change request concerns shares, bonds, real estate or commodities, the procedure described above is always the same.
How do my changes affect the returns?
You can also select, for instance, the Projected Returns tab below, where you see how your change will affect the projected return of your portfolio.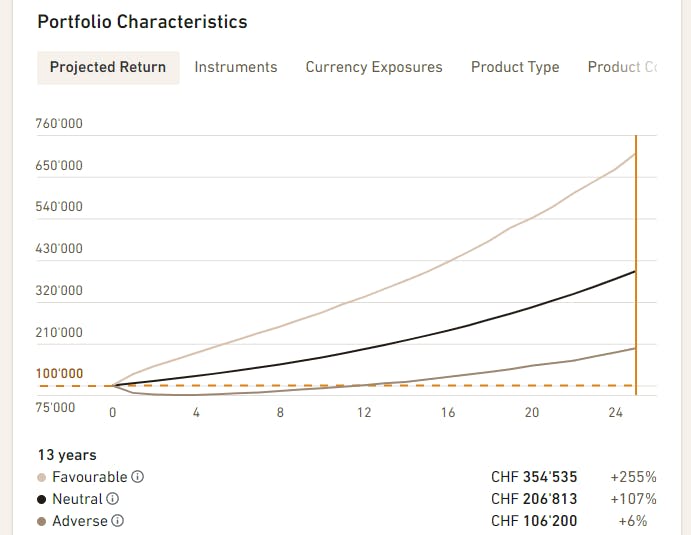 After you have finished adjusting your strategy, click on Confirm investment mix. Your portfolio will be rebalanced with the next rebalancing, usually within a few days.
We do not charge you any additional asset management fees for strategy adjustments, and brokerage fees are included (see here). The necessary reallocations, however, result in small one-off price losses due to the bid-ask spread of the ETF and stamp duties are incurred. For this reason, we generally recommend that you do not make such strategy changes too frequently
Transparent and Flexible
This example nicely illustrates how True Wealth offers you full transparency on how we manage of your portfolio. If the investment strategy we suggest to you suits you without further ado, you don't have to do anything else. If you wish to adjust your investment strategy in certain regions or sectors, or by asset class – shares, bonds, real estate or commodities – you do so easily.
Disclaimer: We have taken great care with the content of this article. Nevertheless, we cannot exclude the possibility of errors. The validity of the content is limited to the time of publication.