Erste Group successfully launched True Wealth's digital investment management solution
Erste Group's Invest Manager was launched as scheduled in October 2019.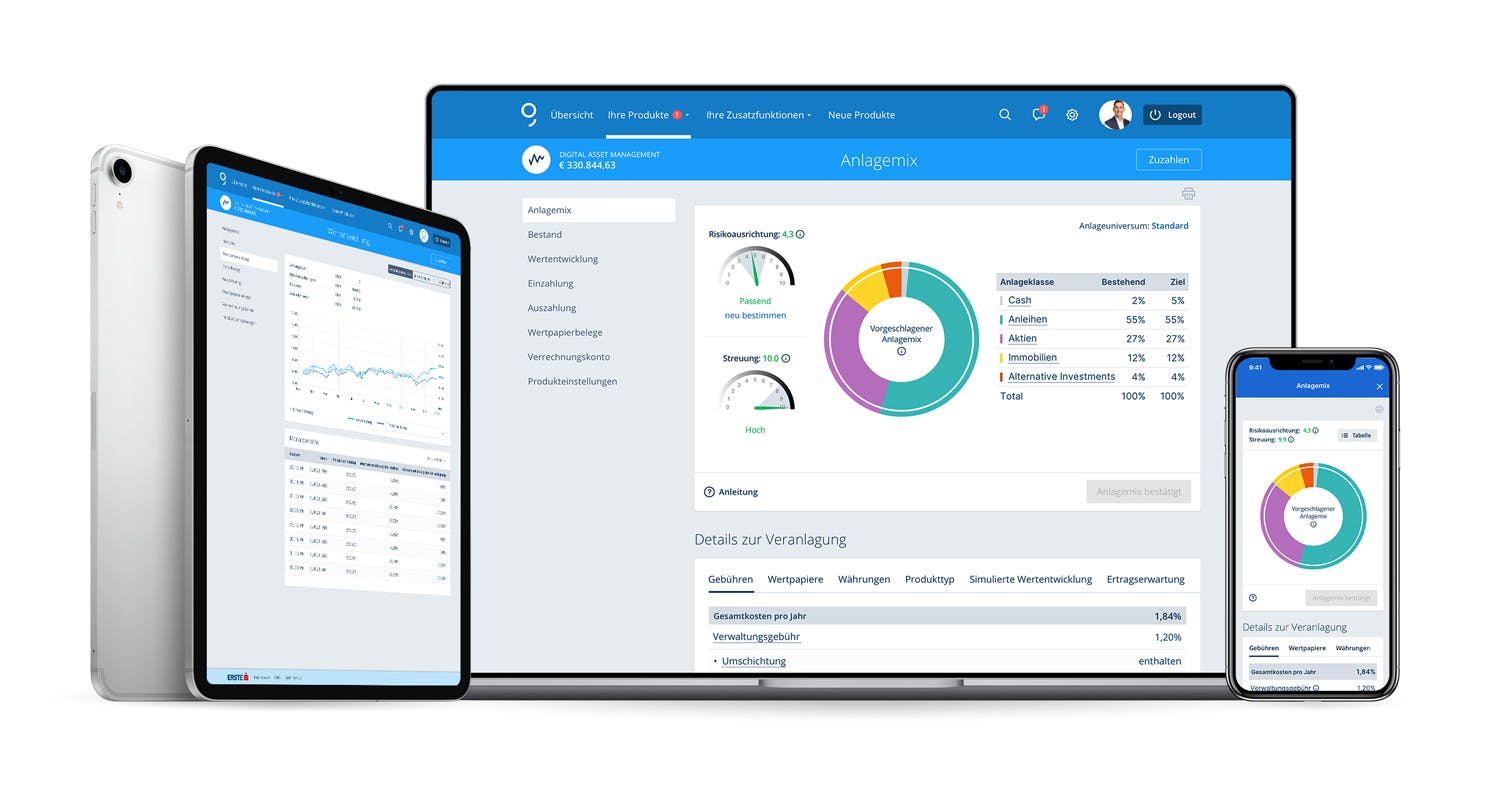 Zurich, Vienna: 09.12.2019
Erste Group Bank AG has recently started offering its private customers in Austria Invest Manager, the new digital investment management solution in the Internet banking solution George. The Invest Manager is an actively managed investment management solution that recommends an individual investment mix depending on the customer profile. Customers benefit from the possibility to adjust the investment mix to their personal needs. Algorithms and the know-how of investment experts are used to implement the personal investment mix. The minimum investment is 5,000 euros.
The solution is seamlessly integrated into George's Internet banking as well as the customer portal of Erste Bank Austria and all Austrian savings banks. The solution is operated as Software as a Service by True Wealth AG.
"The Invest Manager is meant for digitally savvy customers, who do not want keep all their money as savings and are looking for an alternative" , says Thomas Schaufler, Private Client Director, Erste Bank. "Upon request, portfolios can also be completely sustainable at the click of a button".
Felix Niederer, CEO, True Wealth: "The cooperation with Erste Group is an important milestone for us and confirms our strategy to make digital investment management easy and intuitive for everyone. I would like to thank our entire team, who can be proud of what we have achieved".
About True Wealth AG – Assured Independence. Swiss Perfection.
The Swiss Fintech company True Wealth was founded in 2013 by physicist and portfolio manager Felix Niederer and e-commerce entrepreneur Oliver Herren (Digitec Galaxus AG) with the aim of offering a user-friendly and transparent asset management service on the Internet. True Wealth now manages over 220 million Swiss francs for its own direct clients on its own www.truewealth.ch platform. The underlying technology is also offered to B2B partners as "Software as a Service".
About Erste Bank Group
Erste Bank and Sparkassen are amongst Austria's largest providers of financial services. More than 15,500 employees serve more than 3.7 million customers in around 1,100 branches and bank offices. In 2018, Erste Bank and the savings banks fulfilled more than 27,000 people's dream of owning their own four walls, distributed 285 million euros in interest to local savers and enabled more than 8,600 young entrepreneurs to develop their business ideas.
Erste Group is the leading financial services provider in the eastern part of the EU. Around 47,000 Erste Group employees serve around 16.5 million customers in 7 countries (Austria, Czech Republic, Slovakia, Romania, Hungary, Croatia, Serbia) in over 2,400 branches. At half-year 2019 Erste Group's balance sheet total was EUR 248 billion, net profit EUR 732 million and core capital ratio (CET1, Basel III, final) 13.5%.
Contact
Felix Niederer
True Wealth AG, Zürich
Telefon: +41 43 215 28 85
E-Mail: press@truewealth.ch