No detours to free asset management – it's that easy
You have paid in your annual 3a maximum contribution and want to continue investing seamlessly? This is where our innovative "auto top-up" comes in.
If you manage your third pillar with us, that's already half the battle. You've gone through the account opening procedure, determined your risk tolerance, and deposited the first funds. You may have made individual adjustments to the portfolio mix. Or you went all out and sent the transfer form to your old Pillar 3a foundation. They must transfer your pension assets as you wish, without any fuss. At any time during the year.
Perhaps you have already exhausted your 3a annual contribution, but would like to invest more?
At True Wealth, we have developed the simplest solution imaginable for this "problem": Deposits that exceed the defined 3a maximum amount automatically end up in your untied (or free) portfolio. Without separate account opening, IBAN, investment strategy, risk profiling or additional (digital) paperwork. A truly holistic and customized investment tool from a single source.
Auto top-up for your Pillar 3a
The link between your 3a and untied portfolio is "auto top-up" function, which you can set according to your need. By default, this function is switched off. Let's take a look at how "auto top-up" works using 3 example scenarios:
You have not activated the auto top-up feature and you make a deposit into your True Wealth account:
Your funds are allocated to your untied portfolio. Therefore, you must make the transfers to your Pillar 3a manually. Manual transfer entails the risk of missing a deposit and thus the annual tax benefit.
You have activated the auto top-up feature and set your personal annual maximum amount to CHF 3'000:
Your deposits will be paid into your Pillar 3a until the cumulative amount of CHF 3'000 is reached. Deposits in excess of this amount end up in your untied portfolio. If you ever fail to pay in CHF 3'000, True Wealth will transfer this amount from your untied portfolio to your Pillar 3a in December of the year (provided that you are invested in the untied portfolio).
You have activated the auto top-up feature and set your personal annual maximum amount to "Maximum":
Sit back. The same thing happens as in the previous example, except that you no longer have to deal with regular changes to your 3a maximum contributions. True Wealth automatically adjusts them to the latest regulatory requirements.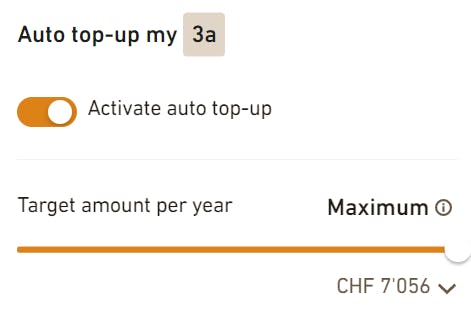 Once you have entrusted us with your third pillar, the move to wealth management is straightforward. We provide you with the necessary tools to do so – but in the end, of course, it's up to you to decide.
The minimum investment amount for an untied portfolio is CHF 8'500, the annual management fee is 0.25-0.50% (depending on the investment amount).
Disclaimer: We have taken great care with the content of this article. Nevertheless, we cannot exclude the possibility of errors. The validity of the content is limited to the time of publication.